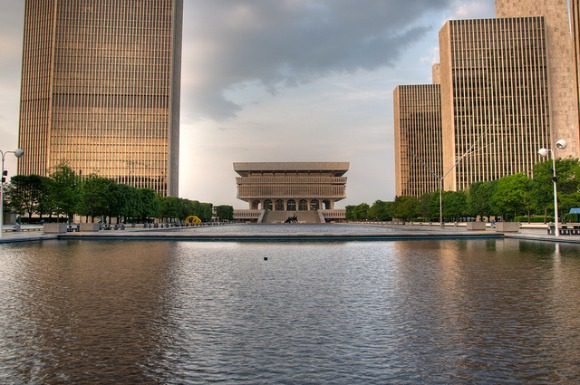 Every geographic region of our country has its own distinct and unique risks when it comes to purchasing home insurance, and Albany home insurance policies are no different.
Though Albany and the surrounding area may be geographically insulated from the sheer devastation of natural disasters such as earthquakes, hurricanes and forest fires, the weather in Albany can still be brutal on your home. In New York State, a basic home insurance policy is going to look relatively similar from insurance carrier to insurance carrier.
The endorsements and specific coverage inclusions and exclusions of each insurance carrier's home insurance policy are what make each policy unique. When purchasing an Albany home insurance policy, there are four specific endorsements that you want to include in addition to the basic coverages in order to properly protect your home and family.
4 Endorsements to Include on Your Albany Home Insurance Policy
Water Back Up and Sump Pump Failure Coverage
Water back up and sump pump failure coverage is an endorsement that can be added to almost any Albany home insurance policy for a relatively inexpensive cost of approximately $25-$45 per year. Water back up and sump pump failure coverage provides financial reimbursement in the event that water backs up into your house or basement through sewers, pipes, drains or water service. Water back up and sump pump failure coverage is not a replacement for flood insurance; however, with our increasingly wet fall and spring seasons it's an important coverage to add to every Albany home insurance policy.
Coverage A Extension
The Coverage A Extension endorsement actually goes by many different names, so if you are looking to add this endorsement to your home insurance policy make sure to explain to your independent insurance agent what it does as it may go by another name. Coverage A Extension endorsement provides an additional 25% of your dwelling coverage, (the coverage on the building itself), in the event you have a loss and cannot fully rebuild your home at the listed coverage value. Most home insurance carriers will only provide this endorsement if you  initially purchase a replacement cost home insurance policy.
Personal Property Replacement Cost Coverage
On a baseline Albany home insurance policy, your personal property (meaning your stuff such as clothes, furniture and dishes), is reimbursed after a loss on an actual cash value basis. This means that depreciation is taken out of your financial reimbursement for damaged property. In order to get back the full replacement cost value of your personal property, you must add the personal property replacement cost coverage endorsement to your home insurance policy.
Special Form Coverage on Personal Property
An unendorsed special form home insurance policy covers your personal property differently than it does your home. It's prudent to have coverage for the same causes of loss for both your home and personal property. An example of a common cause of loss that would be covered under a special form homeowners policy and would not otherwise are ice dams. Ice dams are very common in the Albany area. Water getting under the eaves of your roof and dripping down into your home can cause damage from the top floor all the way to the basement.
The Insurance Take-away
These four endorsements are very easy to add to your Albany home insurance policy.  The best part is that all of them are very inexpensive. In most cases, you can add all four of these endorsements for less than $100 a year.
Albany homeowners may not have to deal with earthquakes, hurricanes or forest fires but we do have to deal with water perpetually trying to enter our homes and causing damage. Whether it's rain, sleet, ice or snow, water is a major cause of loss to many homeowners. The four endorsements we discussed today can help with financial reimbursement in the event that your home does suffer a loss.
If you have questions, comments, or would like to receive a no obligation quote on your Albany home insurance policy, please give us a call at 518-777-7777. You can click here to contact us via email.
If you're interested in more information on protecting your home, please click here to download our free e-book 37 home maintenance tips.
Thank you and good luck,
Ryne Hanley, CIC