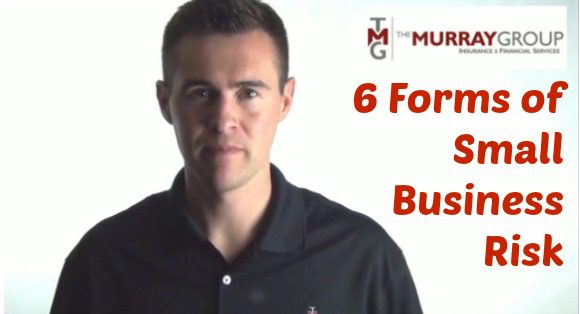 As a small business owner, risk is part of life every day. We will discuss the categories that the six forms of small business risk fall into in order to help you prepare against those risks.
Understanding and naming the different types of small business risk threatening your business is the first step in making sure your business isn't negatively impacted by each.
A quality business insurance program can help you recover from the accidents, injury or loss from small business risk, but only proper risk management techniques can mitigate or prevent these incidents from happening in the first place.
Small Business Risk Management #2
Watch this video to learn the 6 Form of Small Business Risk:
Video transcript:
There are six different classes of risk that impact our business operations every single day. By understanding what these classes of risk are, we can choose how best to defend against them.

The first is Economic Risk – Economic risks arise from our financial operations, the economy, and anything that impacts our ability to borrow money.

The second is Legal Risk – Legal risks are anything having to do with compliance, regulatory issues or statutory liability.

The third risk is Political – Political risks are those arising out of changes in laws, legal interpretation or political policy.

Social risk is the fourth type – Social risks are born out of public relations, loss of reputation, negative brand image, cultural issues or social media.

The 5th risk is Physical – these are the risks associated with property, people or information.

The 6th and final class of risk is Juridical – a Juridical risk is basically risk associated with a court decision.

Each of these risks impact every business differently, the important thing is to be aware they exist and take the necessary steps to protect your business. 
At The Murray Group, we see our job as not only providing insurance products to help you recover after a loss, but also to provide risk management guidance to reduce the chance of an accident ever happening.
If you think our agency would make a good partner for your business and you'd like to begin the process of receiving a proposal for your business insurance program, please give us a call at 518-777-7777.
If you'd like to learn a little bit more about The Murray Group first, please click this link or the link below this video to subscribe to our Risky Business Newsletter.
Thank you and Good luck,
Ryan Hanley, CIC