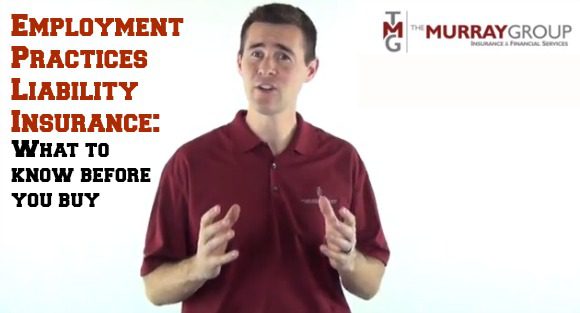 Your employees are not your friends.  Even if you think they are your friends, things can go bad in the workplace. You must protect your business with employment practices liability insurance – the only insurance coverage that will respond when there is an employment related issue.
Employment practices liability insurance (EPLI) is a separate policy from your commercial general liability or business owners policies. Unlike general liability and business owners policies, EPLI is meant to handle employee related issues in three capacities:
Employee vs Owner/Management

Employee vs Employee
Employee vs 3rd party
To get the whole story, watch this short video which will explain exactly why employment practices liability insurance is a necessary protection:
Here is the video transcript:
Ever worry about your employees suing you for something you said or did?

How about getting sued because of what your employees say or do to each other?

What being sued for NOT giving an employee a promotion? Or for not hiring someone?

What about being drawn into a lawsuit because your consultant made a pass at one of your employees?

General liability does NOT defend against any of this lawsuits. Defense costs any financial judgements come right out of your business's bottom line. Unless you have Employment Practices Liability Insurance or EPLI for short.

Discrimination, harassment, retaliation, wrongful termination, employment related misrepresentation, negligent evaluation, training or supervision, failure to enforce policies, wrongful discipline, wrongful deprivation of career opportunity, violation of the family medical leave act, or wage and hour claims…

If you only have general liability or a unendorsed business owners policy you DO NOT, I repeat DO NOT have coverage for these types of claims…

…It's scary really, these types of claims make us think twice about firing someone, or worse hiring someone for fear of being sued.

I get it, we're a small business just like you, we deal with the same issues and have purchased an EPLI, employment practices liability insurance policy so that we can operate without fear of making the tough decisions necessary to grow our business.

Here are few stats that lead to our decision:

– 40% of all EPLI claims are brought against companies with less than 100 employees (so pretty much every business owner watching this)

– #1 area of litigation over the past three years has been labor and employment related lawsuits (everything I mentioned before)

– 47% of plaintiff verdicts are between $100,000 and $500,000 and the average defense cost is $150,000.

Ok… so these are scary facts no doubt, but my purpose in sharing them is NOT to scare you. It's to make you aware of a potentially large gap in your business insurance program that a relatively inexpensive policy plugs perfectly.

The solution to your employment related exposures is Employment Practices Liability Insurance. At The Murray Group, we've built a team of business insurance specialists who will walk you through the process of purchasing EPLI coverage.

Employment Practices Liability is an important coverage to your business, in today's litigious society maybe even as important as general liability…
Purchase Employment Practices Liability Insurance
If you have questions about whether EPLI is right for your business or if you would like to receive a proposal for EPLI coverage, please give us a call at 518-777-7777 or you can email us at insurance@murraygrp.com.
You can also click here to contact us through our website.
We're here to help you find peace of mind.
Thank you and good luck,
Ryan Hanley, CIC