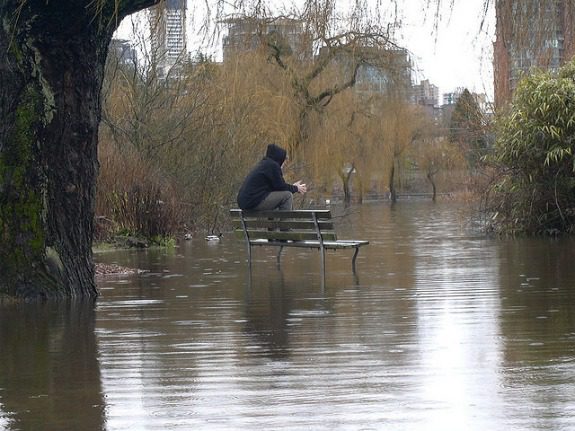 According to the Albany Times Union, there is a serious flooding concern for Albany area residents leading into the July 4th weekend because of continued rain and wet weather in this week's forecast.
According to National Weather Service meteorologist Brian Frugris,
"There is potential for new flooding across the area, especially in places that have already seen some flooding."
This is especially true for areas that have already seen flooding, such as the Catskills, Mohawk Valley, and other Albany area wetlands.
Though rain showers are reported to be scattered, the areas in which rain does fall are predicted to get hit hard by heavy short bursts or downpours. This latest weather service announcement comes after the newest flood warnings spurred state of emergency declarations for Montgomery, Schoharie, Warren, and Herkimer counties.
The Fourth of July holiday weekend is a time to relax and have fun with family and friends – not deal with serious flooding concern. However, the reality is the greater Albany area is saturated from a month of heavy rains creating the distinct possibility of flash floods with every new storm that passes through our region.
Without a hot dry stretch of summer weather, it is prudent that we all keep an eye on weather forecasts and prepare for any potential damage from flooding.
What if the serious flooding concern happens?
Regardless of how much we prepare for flooding event, water tends to be the type of force that does what it wants to do. In the event that a flood does occur and we are unable to prevent damage, there are two insurance coverages that can help with the financial reimbursement of your loss. NFIP flood insurance is one and a NY home insurance endorsement called water backup and sump pump failure coverage is the second.
 NY Flood Insurance
When determining whether or not you should purchase NY flood insurance to accompany your homeowners insurance policy, it's important to understand exactly what a flood is. In general terms, anywhere it rains it can flood. This means geographical areas such as  greater Albany, NY and the Capital District have a legitimate flooding concern whether your home is in a high risk flood zone or not.
I also hope you will realize you are still at risk of flooding if your home is not located in a high risk flood zone. According to the New York Times, one in four, or 25% , of all flood insurance claims happen in low to moderate risk flood zones. Just because the area in which your home is located in doesn't have a flood history does not mean that you are not at risk for a flood loss.
The main point here is that flooding is a specific type of water loss that is not covered under a NY homeowners insurance policy. If you would like coverage for flood insurance, you need to purchase a separate NY flood insurance policy.
Water Backup and Sump Pump Failure Coverage
Water back up and sump pump failure coverage is an endorsement to the homeowner insurance policy that provides coverage to property damaged by water that backs up into the home through pipes, drains, sewer, water-service, sump pump and any other type of fluid transfer system from the house.
Water backup is very common in areas where the public water systems are old such as the Albany, Schenectady, Troy Metro areas.
It is important to understand that water back up and sump pump failure coverage is an endorsement to the homeowners insurance policy. Coverage is generally not included if not requested.  You have to add the coverage and, in most cases, pay an additional premium; otherwise, you do not have coverage for this type of loss.
The Insurance Take-Away
Prevention is good, no serious flooding concern at all is better. If flooding does happen, there are insurance products that can help you financially recover from the loss. Flood insurance and the water back up and sump pump failure homeowners insurance endorsement are a good place to start.
For more great tips on home maintenance and protection, Download our Free 37 Home Maintenance Tips eBook.
If you questions about protecting your home and personal property against flood damage, give us a call at 518-777-7777 or you can click here to contact us via email.
Thank you and good luck,
Ryan Hanley, CIC