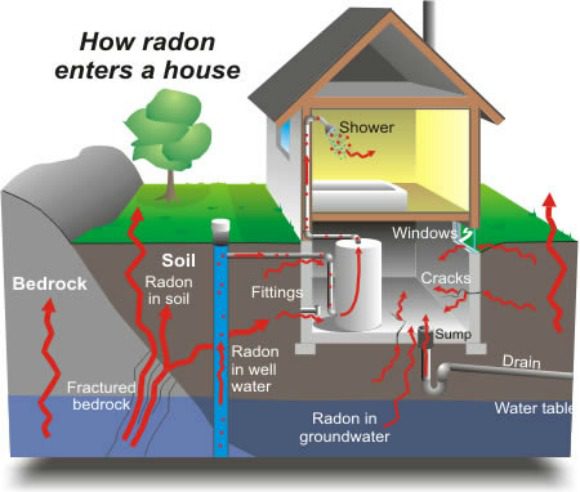 Radon gas is a cancer causing, radioactive gas.  You can't see, smell, or taste radon. If radon finds its way into your home, there can be serious damage done to your lungs from even short exposures.
According to the Surgeon General, radon gas exposure is the second largest cause of lung cancer.

I am not writing this to scare you but rather to help educate and guide you through the process of ensuring neither your family nor you have to deal with the repercussions of this hazardous home invader.
Radon Gas
Radon is found all over the US, including Upstate New York.  Radon gas is created from the natural breakdown of uranium in the ground mixed with air and water.  The gas rises up through the ground into the basement of your home.

Anyone who has purchased a house in the recent past knows that a radon gas test is a common feature of the pre-sale home inspection.  If you don't remember a radon test being done, I recommend checking the inspection report you received to verify a radon test was done and that you do not have a current radon issue.

If you have lived in your home for a while and/or don't have recollection of a radon test ever being performed, I highly, HIGHLY recommend getting a test done. 

There are two ways to test your home:

1) You can go to Lowe's or Home Depot and buy a do-it-yourself kit.  These kits are very inexpensive and take only a few minutes to set up.  The time out of your day and small amount of money will be well worth the peace of mind.

2) You can hire a licensed professional to do a test for you.  This test will be more conclusive then the Do-it-Yourself test but will cost more money.

If you do have a radon gas issue, don't panic.
There are many ways to mitigate your home of radon gas.  Radon is a common problem, and, once detected, you can take the necessary steps to make sure that the harmful affects of radon don't impact your family or you.
NOTICE: Any loss due to radon gas is NOT covered on a NY home insurance policy.
If you have more questions in regard to radon gas, visit the Consumer's Guide to Radon Gas produced by the Environment Protection Agency. This resource will help answer any additional questions you may have.
Need Insurance Help?
If you have questions about your insurance program or if you would like to receive a proposal for auto or home insurance coverage, please give us a call at 518-777-7777 or can also click here to begin by email.
We're here to help you find peace of mind.
Thank you and good luck,
Ryan Hanley, CIC
[schema type="organization" orgtype="LocalBusiness" url="https://murraygrp.com/" name="The Murray Group Insurance Services, Inc." description="Insurance to protect your family, business and life." street="1807 Western Avenue" city="Albany" state="New York" postalcode="12203″ country="US" email="insurance@murraygrp.com" phone="518-777-7777″ ]