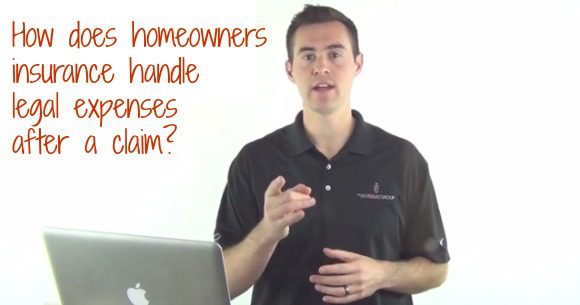 Welcome to the very first episode of a new feature called The Murray Group Mailbag. It is just what it sounds like.  I'll be answering insurance related questions twice a week. The questions will come directly from readers and clients.
We've already gotten a bunch of questions, and I'm starting to make my way through them. Today's question is:
"How does homeowners insurance handle legal expenses after a claim?"
You can watch the video below and read the video's transcript if you don't have the capability of watching the video. If you'd like to submit your own question, you can do so in the comment section below this post, on our Facebook page or you can email us at insurance@murraygrp.com.
How does homeowners insurance handle legal expenses after a claim?
Video Transcript:
Hello and welcome to the very first episode of the Murray Group Mail Bag where we answer questions from you, direct questions asked to us through either our Facebook page, our website or people who email or call us. We want to make sure that we get those questions answered for you and get them up on our website so that if you ever have to refer back to them they're there for you to review and just to better understand how insurance works.

My name is Ryan Hanley. I'm the Director of Marketing and Sales and also a Certified Insurance Counselor here at the Murray Group. Today's question comes from Cindy who is from Troy, New York and Cindy asks, "How does homeowner's insurance handle legal expenses after a claim?" So, Cindy's questions derives out of a claim, something happens on her property in this particular case and she was wondering how the legal aspects and the expenses associated with the legal aspects of that claim are going to be handled.

Now, on most admitted New York state insurance carriers who provide homeowner's insurance, so an admitted New York state homeowner's insurance carrier is going to defend and pay all the legal expenses associated with a homeowner's insurance claim. Now, there can be exceptions to this, so if there's a claim that's uncovered, so a claim that is not covered under a homeowner's insurance policy, the carrier depending on the language of their particular contract can choose to not cover legal expenses and not provide their own counsel or defense attorney's.

In most cases, if you have a covered claim, your carrier is going to provide both the attorney's and is going to cover all the expenses associated with defending that claim for you. Now, some people ask if they can choose to have their own attorney's handle a claim and that's something that you want to talk to your insurance carrier about when a claim happens. Most carriers will at least consider allowing you to choose your own attorney's, but I found that insurance companies don't necessarily want to pay anymore than they have to and are going to find the best attorney's available to make sure that you're properly defended.

So, Cindy, I hope that answers your question. If you have a question about anything that has to do with insurance, just leave it either in the comments below. You can visit our Facebook page if you just search The Murray Group on Facebook you'll find us or you can just email insurance@murraygrp.com. You can send us your question and in a future episode of the Murray Group Mail Bag, I'll make sure that I find you the best answer. Thank you and have a great day.
This video is part of an ongoing series dedicated to helping consumers get answers to their insurance questions.
If you'd like to follow along on YouTube, connect below:
If you have questions about your insurance program or if you would like to receive a proposal for auto or home insurance coverage, please give us a call at 518-777-7777 or email us at insurance@murraygrp.com. You can also click here to contact us through our website.
We're here to help you find peace of mind.
Thank you and good luck,
Ryan Hanley, CIC
[schema type="organization" orgtype="LocalBusiness" url="https://murraygrp.com/" name="The Murray Group Insurance Services, Inc." description="Insurance to protect your family, business and life." street="1807 Western Avenue" city="Albany" state="New York" postalcode="12203″ country="US" email="insurance@murraygrp.com" phone="518-777-7777″ ]