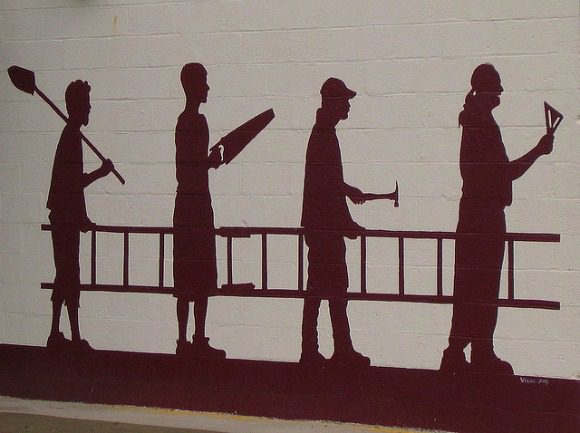 NY workers compensation insurance (a vital piece of your business insurance program) is the result of a law passed by the New York State Legislature in 1914. Workers compensation law was a compromise between employees and employers in which, in most instances, employees give up the right to sue their employers for negligence resulting from an injury, illness or disability and in exchange receive guaranteed benefits.
What's most important for business owners to know is that NY workers comp insurance is mandatory for all organizations with employees.
The tricky part of NY workers compensation insurance is determining who is an employee and who is an independent contractor. Most business owners are aware that they do not have to pay workers compensation premiums for legitimate independent contractors. However, the definition of an independent contractor, according to the New York Worker's Compensation Board, may be much different than what is commonly understood to be an independent contractor by business owners.
We've created a quick guide to help you better understand the difference between an employee and independent contractor as it relates to workers compensation insurance. You can view it here: What is an independent contractor?
Handling Workers Comp Claims
Step One –  Always obtain medical treatment first. An injured employee should immediately tell his or her employer or supervisor when, where, and how he was injured and then immediately seek medical treatment. Treating injuries early gets employees back to work quicker.
Step Two – All accidents should be investigated fully to ensure that all the facts are gathered correctly. Once all facts are gathered, call your NY workers comp insurance carrier to report the claim.
Note: never direct an injured employee to a specific healthcare provider.
Penalties for Not Having NY Workers Comp Insurance
Employers who fail to provide proper NY workers comp insurance to their employees are liable for a penalty of $2000 per 10 day period of noncompliance, plus the actual award including both compensation and medical costs and any other penalties the Worker's Compensation Board determines to assess for noncompliance.
In cases involving severely injured employees, medical costs alone could be in the hundreds of thousands of dollars per employee.
Purchasing Workers Compensation Insurance
When purchasing NY workers comp insurance, you have two options:
An Independent Insurance Agent
Rates will not vary significantly from the NYS Insurance Fund to any of the insurance carriers offered by an independent insurance agent. However, there is one huge drawback to the Insurance Fund.  The Insurance Fund provides workers compensation if employees work only in New York State. Plus, don't forget the ease of doing business with an independent insurance agent who is going to guide you through the process of purchasing NY workers comp insurance and set your policy up correctly.
The Murray Group can help you properly classify your workforce to ensure you're paying premiums only for the classes of business you are actually using. 
This is a HUGE area of wasted money for many businesses.
Let us help you find the best workers comp program at the most competitive rate available in the marketplace. Call us today at (518) 456-6688.
You can also click here to begin the proposal process via email.
Thank you and Good luck,
Ryan Hanley, CIC