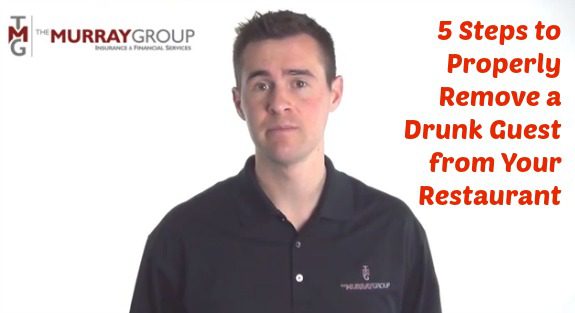 I hope you never have to deal with removing drunk guests from your restaurant, bar or tavern. Nothing positive comes out of the experience. You started your restaurant business to provide your community with a safe, fun, enjoyable atmosphere that delivered delicious food and good times. You don't want your restaurant to be a place for people to come get bombed and cause problems.
Unfortunately, the reality for any public venue that serves alcoholic beverages is that eventually someone will get too drunk, and you'll be forced to ask them to leave. This is a dangerous event for every restaurant.
In the litigious society we live in today, more and more restaurants and their staff are being charged with assault and battery for removing drunk guests from their establishments. However, there are procedures you can follow to help reduce the chance of this happening.
Removing Drunk Guests
This video outlines the 5 steps to properly removing drunk guests from your restaurant:
(To view this video on YouTube click here)
Here is an outline of the five steps to properly removing drunk guests from your restaurant:
Step #1 is prevention. Encourage staff to keep their eyes and ears open to guests that may potentially cause issues.
Step #2 is have a visible authority presence. Management and security staff should be on the restaurant floor establishing their presence.
Step #3 is maintain a documented process for warning and cutting off over served guests. If this process is always done the same way, it will mitigate potential problems.
Step #4 is ask the drunk guest to leave politely. Try the, "kill them with kindness," approach to removing drunk guests.
Step #5 is physically removing a drunk guest. Physically removing a drunk guest from your restaurant must be done with the LEAST amount of force and physical contact as possible.
Want more insights into running a safe, efficient restaurant, bar or tavern?
We're dedicated to helping New York State restaurants operate at their fullest potential. This is why we created the Restaurant Safety Newsletter, a free resource for restaurant owners, professionals and management to help ensure that you are providing the safest and healthiest eating and working environment possible. Simply enter your name and email in the form below for instant access.

If you have questions about your restaurant insurance program or if you would like to receive a comprehensive review and proposal for your restaurant insurance program, please give us a call at 518-777-7777 or you can click here to begin the process by email.
Thank you and good luck,
Ryan Hanley, CIC
[schema type="organization" orgtype="LocalBusiness" url="https://murraygrp.com/restaurant-insurance/" name="The Murray Group Insurance Services, Inc" description="Restaurant Insurance Specialists" street="1807 Western Avenue" city="Albany" state=" New York 12203″ phone="518-777-7777″ ]