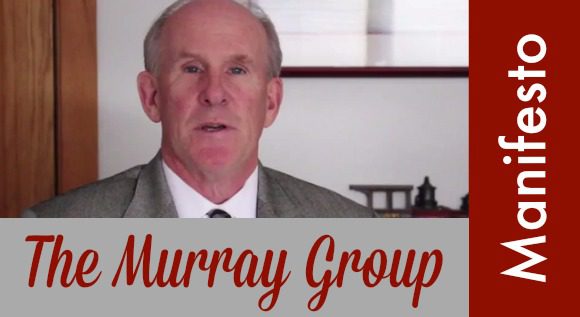 "It has always been all about the clients." ~ Jim Murray
Jim Murray, President and Founder of The Murray Group Insurance Services, Inc., has been providing quality insurance products and services to individuals and families of the Albany / Capital District for over 40 years.
We sat down and created this video as an homage to the clients he has served over that time. Jim says everyday, "Our brand is family," and he treats all clients as if they are family.
Listen to Jim deliver The Murray Group Manifesto or read it below:
To view this video on YouTube, click here.
Interested in working with The Murray Group for your insurance and/or financial needs? Give us a call at:
(518) 456-6688
or
click here
to begin online.
Video transcript:
Yesterday, I received a phone call from a client who's been with me for 27 years. She had been in a small accident and had a few questions about the procedure for filing a claim with her auto insurance carrier.

I must have taken this same call 20 times a week, every week,  for the last 40 years.

40 years… So much has changed in 40 years.

When I started in the insurance business, we carried manuals and pocket raters into people's homes, sat down at their kitchen tables and figured out what their rate was going to be by hand.

Today, computers do the same job in seconds. We didn't have cellphones or email or Facebook. Clients came by the office or called us on the hard line.

Sometimes I get frustrated by what advertising, and to certain extent, technology has done to the insurance business. Most people view home and auto insurance as commodity with price the only differentiating factor.

I can see how, if you've been in the insurance business as long as I have, it would be easy to feel defeated. I've fought over four decades through up and down markets, through three financial meltdowns and countless unforeseen obstacles, just like so many other small business owners. I've survived. More than that, I've thrived, because of one simple belief.

I am in service of my clients. Every person who walks in our front door with a need walks out with an education on the coverage and products that will best protect the assets they hold dear.

Regardless if they do business with us, I want them to understand what they're buying. You can't get that in 15 minutes. You get that through trust and respect and effort.

So it brings me great joy to watch my children, all of whom over the last few years have joined me here at The Murray Group, to carry on my work, to believe as I believe, that the relationship is still important. That our clients need an advocate, an advisor, a team member to have their back when questions arise… when concerns surface. It's our job to be here.

Sometimes we have to remind ourselves why we do what we do. I'm reminded every time I look at my children working along side me. I'm reminded every time my staff takes initiative and goes the extra mile when no one asks them to. I'm reminded every time my phone rings, like it did today, and I help ease the stress of one my longtime clients.

I love the insurance business. It's misunderstood, but you get to help a lot of people.

I know you have a lot of options when choosing who to place your insurance with. If you believe as we believe and like the way we do business, I hope you'll give us call.

Thank you.
Interested in working with The Murray Group for your insurance and/or financial needs? Give us a call at:
(518) 456-6688
or
click here
to begin online.