On July 4th, 2014, we had the pleasure of joining the Albany chapter of Team RWB at the Firecracker 4 Road Race in Saratoga Springs, NY.
Team RWB's mission is to enrich the lives of America's veterans by connecting them to their communities through physical and social activity.
The Murray Group is proud to support America's veterans and Team RWB's mission.
The Firecracker 4 Road Race is a must-attend event for anyone that enjoys running or just old fashioned American spirit. There are vendors, tents and a band playing rock'n'roll to get the runners fired up for their four mile run.
What makes the Firecracker 4 Road Race such an amazing event isn't the event itself, but the infectious enthusiasm of the participants. This was particularly present in the Team RWB sign-up tent. Volunteers, supporters and veterans mixed and mingled in preparation for the event. There is something about wearing red, white and blue that gets the blood moving.
The Murray Group had a fantastic staff turnout: Ryan Murray (pictured above), Jim Murray, Bridget (Narcisco) Murray, Lauren (Hanley) Murray and Ryan Hanley. And we saw many of our current clients, which was an added bonus! We were asked to hand out flyers to the runners walking past the Team RWB booth. It was amazing how many people loved the Team RWB mission and wanted to lend their support.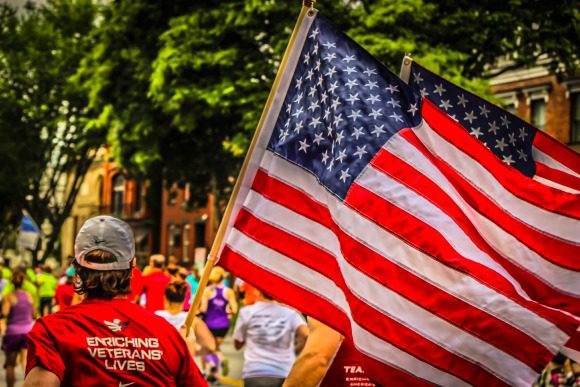 If you'd like to learn more about the Albany chapter of Team RWB, contact Joe Quijano at joe.quijano at teamrwb.org. He can give you details and a schedule of future events that Team RWB will be participating in.
Thank you.
Bridget Narcisco